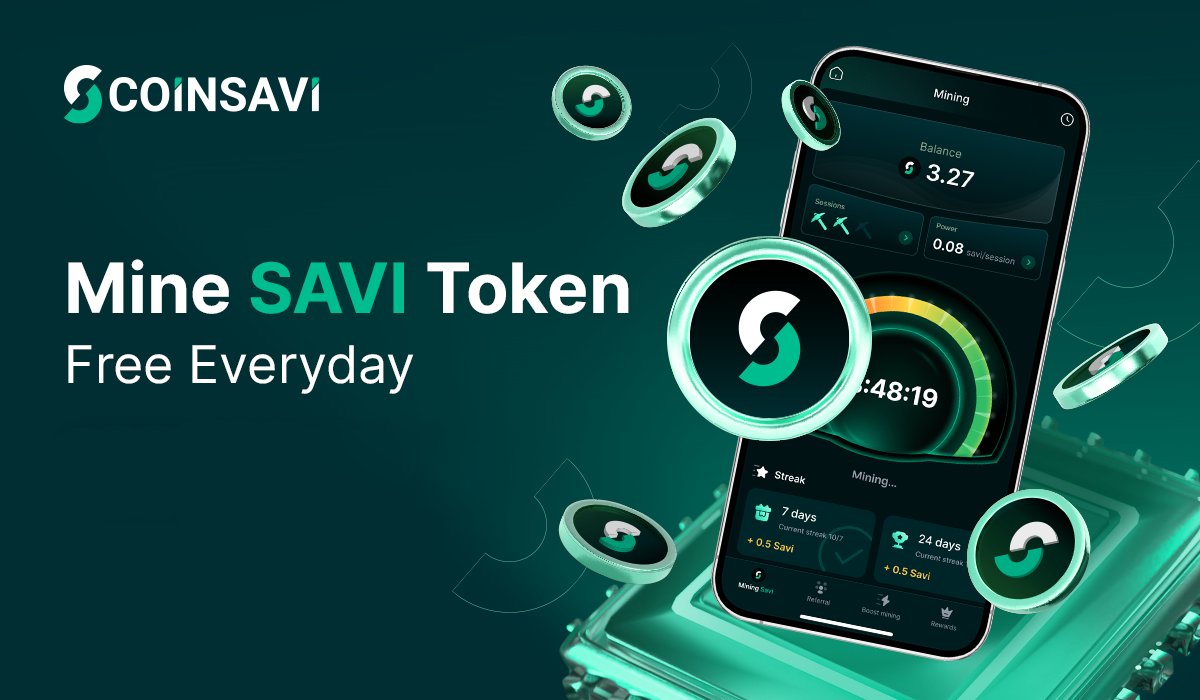 Hello everyone, and welcome to another blog post on free crypto mobile crypto mining this new mobile crypto mining is based on the Coinsavi token. In this blog article, you will learn all the steps on how to mine a free Savi token.
CoinSavi Mining Details
Token supply: N/A
Tokens Per Claim: 0.08 Savi
Mining Ends: N/A
Network: Unknown (Possibly RENEC)
Referral: 10%
How to Claim Coinsavi Token
You can completely mine SAVI easily with just a smartphone.
Download the Coinsavi Application
Create Your Account
Use my referral code "52986763" to boost the mining rate
Login to your CoinSavi account.
At the Coinsavi app homepage, click "Mine now".
Click the Mining button to mine SAVI.
Note:  On the SAVI mining screen, it will show the number of SAVI you mined, the number of sessions, and the mining speed. Please note that each user will have 1 default mining session equivalent to 4 hours for 1 mining day. Users are encouraged to perform KYC from level 2 or higher to have 3 full mining sessions. Each mining session you will be able to mine 0.08 SAVI.
About Coinsavi
CoinSavi is a cryptocurrency exchange of SAVI LABS headquartered in Singapore. CoinSavi provides a trading platform to buy and sell hundreds of cryptocurrencies quickly and securely for traders of all levels. CoinSavi is currently one of the exchanges offering the largest variety of coins worldwide.
What is CoinSavi Token?
SAVI is the coin of the CoinSavi cryptocurrency exchange. SAVI was born with the vision to promote the development of CoinSavi exchange and build a community of smart investors, full of passion and faith in cryptocurrencies and blockchain technology.
Conclusion
There you have it, a detailed blog post on how to claim the Coinsavi mobile crypto mining token. In case you have questions on this topic kindly drop your comments in the comment section and I will be glad to help you with it.
Disclaimer: The information provided in this post is for general informational purposes only and should not be considered professional or financial advice.